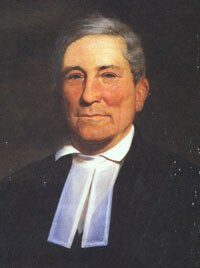 Here at St. John's, among those blessings is the rich legacy left to our church by our faithful and thoughtful forebearers. The thousands of men, women, and children who have made up our congregation since its founding 275 years ago, have provided us a beautiful sanctuary for worship, a parish hall for education, an endowment for helping ensure we survive and prosper in the decades ahead, and most of all, a rich Lutheran theological foundation for our Christianity.
Among the many people that have provided leadership to this heritage is The Reverend John Bachman (1790-1874). Dr. Bachman served as Pastor of St. John's for nearly 60 years while also helping found Newberry College, the Lutheran Theological Southern Seminary and the South Carolina Lutheran Synod. A noted naturalist and social activist, Dr. Bachman collaborated with John James Audubon in the publications of "Vivparous Quadrupeds of North America". His legacy serves as a vivid example of the many gifts our congregation has been given.
In this light, the Vestry has formed the John Bachman Society to honor members of our congregation who either by name or anonymously have elected to include St. John's in their final wishes or estate plans. The Society will meet once every three years at a dinner to be hosted by the then-serving Vestry. All members of the Society and any interested members of the congregation are invited to attend this evening of celebration.
At the inaugural meeting of the Bachman Society on February 22, 2015, The Reverend Dr. Edward Counts, Chair of St. John's History Committee, spoke on the life and legacy of The Reverend Dr. Bachman.
The Bachman Society was founded by the Vestry to encourage each of us to consider a final gift to St. John's as a part of our personal legacy. The gift may be of any amount and will always remain confidential. If you choose to have your name included as a member of the Society, it will be posted in the display cabinet in the vestibule of the church. Or, you may choose to be a member anonymously. The List of Members of the Society will be updated every three years at the time of the Bachman dinner.